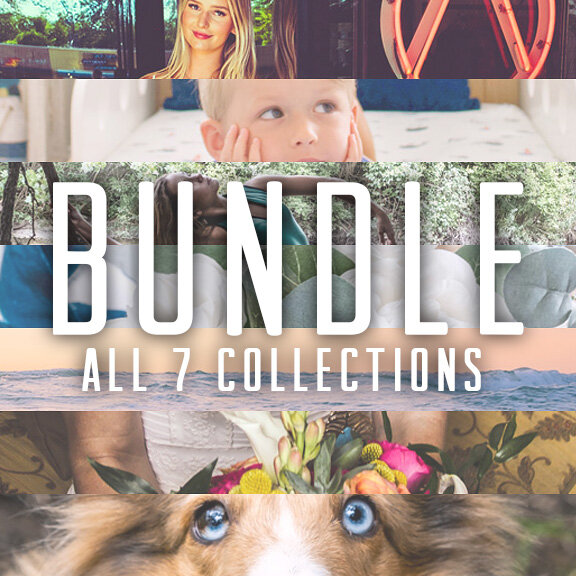 BUNDLE – All 7 Collections
This package includes ALL of our fabulous collections for a crazy low price! You can't decide which collection you need? This package gives you 70 amazing and unique presets for only $49.99, with savings of over $50!!
The FOXY Collection includes 9 presets curated with fun, uninhibited finishes with a bit of flare as well as a bonus black and white preset for a classic film style. 10 total presets!
The Lil' Darling Collection is inspired by those special moments with our little loves and includes 9 color presets as well as a bonus black & white preset with a bit of grain for a classic film style – 10 in all! This collection is meant be warm and bright with soft finishes, eliminating harsh shadows.
The ADORN Collection is a gift from us to you for those tricky interior shots. Brighten the room while retaining details in the highlights. Neutralize color casts to enhance the style of your space. Whether you are an interior designer, realtor, blogger, or just really proud of your new house, this collection includes 10 presets to enhance your interior photography and get it ready to share!
The LIT Collection is all about highlights and shadows. Good lighting can elevate any photograph to the next level. Included are 9 presets curated to get the best finishes when we can't always control the sun as well as a bonus black and white preset for a classic film finish. These presets enhance the contours within the images without letting the highlights and shadows get too harsh.
The SALTY Collection is inspired by coastal beauty. How many times have you tried to capture the warm colors of a beautiful sunset, an awakening sunrise, or the crystal blue water of the sea only to be disappointed by your photo. This collection boosts the natural colors in your images to give you that dramatic moment you remember.
The Hitch'd Collection is inspired by our Texas bride. She's strong (Don't mess with Texas Gals!), vibrant, and does things her way. The Southwest style of these presets gives you bold colors, warm nostalgic vibes, and some grit in each unique finish. Go big or go home – 10 presets in all!
The Fur Baby Collection is inspired by our quiet companions that we cherish so much. This collection includes a wide variety of presets to help with all areas that can be tricky when taking photos of our pets. We covered inside and outside shots, animals with light and dark complexions, and finally low light and contrasty environments. 10 total presets to help capture how precious those little guys truly are!
With this Bundle purchase, you will receive mobile and desktop files for 70 unique presets (XMP and DNG) as well as a guide to help with installation.
Click on the before and after galleries below to show the 7 collections included!